The Beijing Paralympics not only featured the talents of five Minnesota athletes, devices made in Minnesota were also in the spotlight.
The Minnesotans were part of a U.S. team that came home with 20 medals, placing fifth in the medal count. Fourteen of the medals were in Nordic skiing.
Snowboarder Mike Schultz of St. Cloud won a silver medal in men's snowboard cross LL1, for athletes with lower-limb amputation. It was his third Paralympic medal overall, as he won silver and gold in 2018. He also finished fifth in banked slalom at Beijing.
Schultz, 40, also got to see other athletes using his invention, the Moto Knee and Versa Foot. He is the founder and owner of BioDapt. The company is located in St. Augusta, a small town southwest of St. Cloud. BioDapt designs, manufactures and distributes high performance lower limb prosthetic components used for action sports and other similar activities.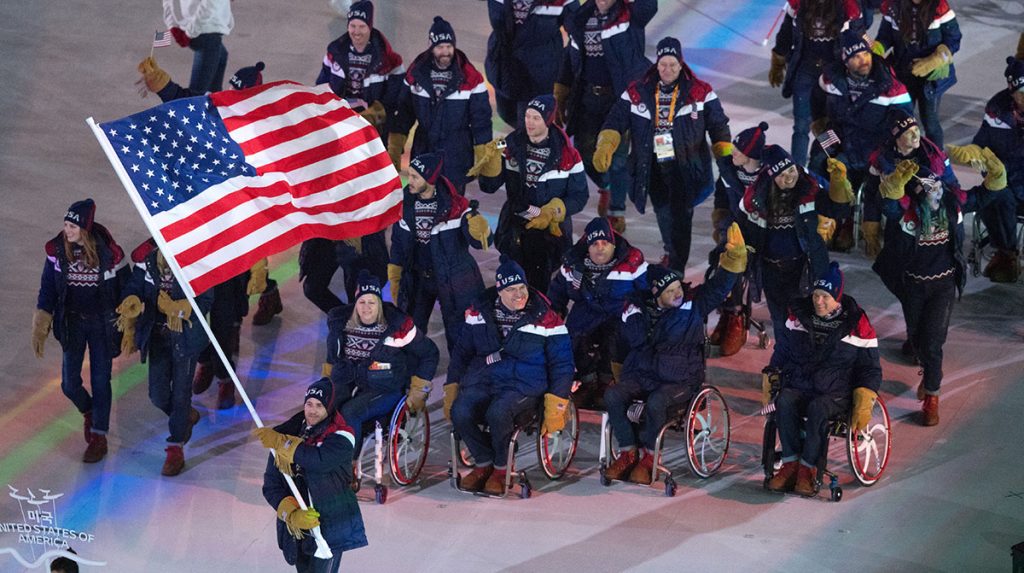 Schultz created the Moto Knee and Versa Foot. Not only is he a Paralympian and X-Games athlete, he is also a professional snowmobiler. Schultz lost his leg above the knee in 2008 after sustaining an injury while racing.
At the Beijing games, he was competing against several athletes using the specialized prosthetics he developed. There were 26 athletes from 11 countries using BioDapt products at the games.
Minnesota's team was a mix of veterans Schultz and Aaron Pike, and three newcomers. Sydney Peterson of Lake Elmo was a last-minute addition to the U.S. team. Her first Paralympics were a success, as she brought home three medals, including gold in the 4×2.5-kilometer mixed relay in the cross-country competition.
The U.S. relay team included seven-time Beijing medalist Oksana Masters, Dan Cnossen and Jake Adicoff. They were guided by Sam Wood. The relay event has a team of men and women in the sitting, standing and visually impaired categories.
Peterson, 20, also won a silver medal in the standing 15km classic and a bronze medal in the standing freestyle sprint. She finished sixth in middle distance.
Peterson is a member of the Nordic ski team at St. Lawrence University. She lives with dystonia and reflex sympathetic dystrophy, which cause pain and muscle contractions. She has limited mobility in her left leg and arm, and skis with a single pole. A brace inside her left boot holds her leg in position.
Another team member with Minnesota ties is Aaron Pike of Grand Rapids, who competed in his sixth Paralympics. Pike, 35, competed in biathlon and cross-country skiing. He finished eighth in the sprint biathlon, ninth in individual biathlon, 10th in sprint cross-country, 12th in middle-distance cross-country and 15th in middle-distance biathlon.
Pike has also competed in the Summer Paralympics and is a well-known wheelchair racer. Pike has won many competitions over the years.
Oyuna Uranchimeg, 48, of Burnsville was the lead for the U.S. mixed-gender wheelchair curling team. The team finished in fifth place. Uranchimeg is a veteran curler with several titles to her credit. This was her first Paralympics.
Rounding out the Minnesota delegation was cross-country skier Max Nelson of Grant. The 18-year-old is legally blind. He finished ninth in the open relay, 13th in the middle-distance race and 14th in the sprint. He was in his first Paralympics.
BioDapt a success story
BioDapt was created after Schultz's snowmobile racing injury. "I wanted to get back to doing the activities I loved (mainly motocross and snowmobile racing), but I soon found out there was nothing that would really allow me to ride the way I did before my amputation," he said.
"With my knowledge and experience of fabrication, the experience of tuning suspension on my race equipment and my unwillingness to compromise I set out to create what I needed. After nearly two years of development I have come up with a knee unit that is versatile enough to handle many different action sports and has helped me win multiple ESPN X Games medals in the adaptive motocross and snocross events. In my many years of racing as a professional I've learned it takes a few key components to be successful: support from the people around you, a whole lot of determination and the right tools for the job."
Schultz started the company in 2010. BioDapt's goal is to manufacture high-quality and versatile components that allow amputees to participate in sports and activities, according to the company website. The equipment can be, and is used by many elite adaptive athletes at the highest level of competition as well as the average person who just wants to get out and be active doing the sports and activities they enjoy.
He is still the driving force behind the company and equipment development. He personally uses his Moto Knee and VF2 Foot on a daily basis as he trains and competes in motocross, snowbike and snowboarding at the highest levels of adaptive sports. he has won gold and silver at the Paralympics and has won several X Games medals in motocross, snowmobile and snowbike) and a Gold and Silver Medalist from the 2018 Paralympic Winter Games in snowboarding.
Learn more about Schultz and his story at www.monstermikeschultz.com
Learn more about BioDapt at https://www.biodaptinc.com/
Learn more about the U.S. Paralympics team and the many competitions at https://www.teamusa.org/beijing-2022-paralympic-games