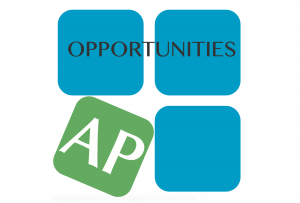 PROFESSIONAL DEVELOPMENT
Apply for scholarship
Get Up Stand Up to Cure Paralysis is offering two adaptive fitness scholarships, of $2,500 each. Applications are due Nov. 30 for these first-time awards. The two scholarships will be awarded in January 2020. Individuals living with spinal cord injury in the Upper Midwest (Minnesota, Wisconsin, Iowa, North Dakota, and South Dakota) are eligible to apply. Additional eligibility requirements and scholarship details are within the application. The scholarship is offered thanks to generous donors. FFI: www.gusu2cure.org
Networking and support
The Autism Society of Minnesota (AuSM) Professional Networking Group meetings bring together mental health professionals who provide support to individuals on the autism spectrum together to learn. Each meeting will focus on a topic, such as therapeutic alliance, support services, or other problem-solving challenges. An AuSM counseling and consulting services staff member will present a case example and then facilitate an open group discussion for sharing relevant cases. Troubleshoot challenges and learn from other professionals. All meetings are held from 6:30-8:30 p.m. at AuSM's office, 2380 Wycliff St. #102, St. Paul. Upcoming dates include Nov. 18, Jan. 27 and March 23. RSVP. FFI: [email protected], 651-647-1083 
---
CHILDREN AND FAMILIES
Free Youth Mental Health First Aid Course in St. Paul
NAMI Minnesota (National Alliance on Mental Illness) will hold a free Youth Mental Health First Aid training course 8 a.m.-5 p.m. Fri, Nov. 22 at NAMI Minnesota, 1919 University Ave. W., Suite 400, St. Paul. The course is designed to teach participants the risk factors and warning signs of mental health problems in adolescents, build understanding of the importance of early intervention, and teach individuals how to help a youth in crisis or experiencing a mental health or substance use challenge. Participants will also learn a five-step action plan to support an adolescent developing signs and symptoms of a mental illness or emotional crisis. Preregistration required. FFI: 651-645-2948, www.namimn.org
PACER workshop sampling
PACER Center offers many useful free or low-cost workshops and other resources for families of children with any disabilities. Workshops are at PACER Center, 8161 Normandale Blvd., Bloomington, unless specified. Workshops are offered throughout the state, with some workshops available online. Advance registration is required for all workshops. At least 48 hours' notice is needed for interpretation. Many workshops are live-streamed. Check out PACER's website and link to the newsletter of statewide workshops that allows participants to pick and choose sessions designed for their needs. FFI: FFI: 952-838-9000, www.pacer.org
Preparing for your Loved One's Future is offered 6:30-8:30 p.m. Thu, Nov. 14 at PACER Center. Guest Speaker Julie Sherman from Thrivent Financial, along with Cathryn Reher, Attorney with Long, Reher, Hanson, & Price, P.A., will discuss financial and legal strategies in light of available government benefits and the interplay with special and supplemental needs trusts. A light dinner with the guest speakers will take place at 6 p.m. before the workshop.
Tech for Teens Club: Building Websites is offered 10 a.m.-noon Sat, Nov. 16 at PACER Center. The workshop will introduce teens with disabilities to the basics of coding for the internet. Students will create their own unique website and publish it online. This workshop is designed for students with basic computer skills, but no previous coding knowledge is required. Students of all abilities are encouraged to attend.
Planning for Transition to Adulthood Workshop Series: ABCs of the Individualized Education Program (IEP) for Transition-age Students and Their Parents is offered 6-8 p.m. Thu, Nov. 21 in Chanhassen. The workshop helps parents and students in 8th grade and above understand how to use the Individualized Education Program (IEP) to support the transition to adulthood. Students can register separately for their own workshop where they will have the opportunity to talk about what transition means to them, learn about the laws that support transition, get to know their IEP better, and create a self-advocacy tool. 
---
INFO & ASSISTANCE
Suicide Survivors' Club story portrait workshop
The Suicide Survivors' Club founders developed a workshop inspired by their Suicide Survivors' Club book series. The workshop will help attendees get validation for the ups and downs of how life changes after the suicide of a family member; understand how visual storytelling can help families after their loss, and use images provided by the facilitator to tell your loss story and aid in the healing process. Attendees will also receive a copy of the book set to use as a healing tool on their own, with a therapist or in a support group. This workshop, for ages 18 and older, is 6:30-8:30 p.m. Mon, Nov. 11 at the FamilyMeans Center for Grief & Loss, 1129 Grand Ave, St. Paul. FFI: Cat or Hayley, 651-645-2948, www.namimn.org
MCIL hosts classes and activities
The Metropolitan Center for Independent Living provides many life skills classes as well as fun outings and events for people with disabilities. MCIL is at 530 N. Robert Street, St Paul and most activities are there or start there. Classes and events are listed on the website, www.mcil-mn.org. Click on "Classes Groups and Sessions" for updated information or to print their calendar. Please give two weeks' notice if the alternative format or other accommodations are needed. Events are free, accessible and mostly scent-free. FFI: 651-603-2030
Classes and support in Sauk Rapids
Independent Lifestyles, Inc., 215 North Benton Dr., Sauk Rapids, offers many groups and classes, for free or a small fee. These include advocates for independence, post-polio and Parkinson's support groups, and sports including bowling. Learn self-dense and improve fitness with adapted martial arts and Tae Guk Known Do. Wear loose clothing and bring a bottle of water. The classes are on Fridays unless there is a holiday. Scott Ridlon is instructor. FFI: 320- 267-7717, 320-281-2042
Mental health support offered
NAMI Minnesota offers more than 500 free educational classes and presentations statewide each year, along with help in navigating the mental health system. NAMI also has more than 70 free support groups for people living with a mental illness and their families. In the Twin Cities NAMI has about two dozen family support groups, more than 20 support groups for people living with a mental illness, anxiety support groups, groups for veterans and other groups. Led by trained facilitators, groups provide help and support. Parent resource groups are facilitated by a parent who has a child with a mental illness and who has been trained to lead support groups. A group meets 6:30-8 p.m. on the second and fourth Monday at Eagle Brook Church, 2401 East Buffalo St., White Bear Lake. FFI: Jody Lyons 651-645-2948 x109.
Family support groups help families who have a relative with a mental illness. A group meets at 6:30 p.m. the second and fourth Wed at Centennial United Methodist Church, 1524 Co. Rd. C-2 West, Roseville. FFI: Anne Mae. 651-484-0599.
Open Door Anxiety and Panic support groups help people cope with anxiety disorders. One group meets 6:30 to 8:00 p.m. the second and fourth Thu in Room 104, Gloria Dei Lutheran Church, 700 Snelling Ave. S., St. Paul. Another group meets 6:30-8 p.m. the first and third Thu at Woodland Hills Church, 1740 Van Dyke St., St. Paul.
A peer support group is offered for LGBTQ adults living with a mental illness. The group meets 1-2:30 p.m. Sat, Living Table United Church of Christ, 3805 E. 40th St, Mpls. FFI: David, 612-920-3925, 651-645-2948.
Young Adult NAMI Connection is a free support group for persons ages 16-20. One group meets 7-8:30 the first and third Thu at Friends Meeting House, 1725 Grand Ave., St. Paul. A group also meets 7-8:30 p.m. on the first and third Thu at Dental Office of Dr. Crandall & Associates, 2300 East Highway 96, White Bear Lake. The group is facilitated by young adults who live with mental illnesses and are doing well in recovery. A full calendar of all events is offered online. FFI: 651-645-2948, www.namihelps.org
Vision loss group offers activities
Vision Loss Resources provides free and low-cost activities in the Twin Cities for people who are blind or visually impaired. Check out the newly redone website, accessible on smartphones, tablets, and laptops. Life skills classes for those with low vision; card games, craft classes, book clubs, walking groups, dinners out, special outings and technology classes are among the offerings. Participants need to RVSP to participate, at least three working days prior to an event. The calendar is also available on the Vision Loss Resources website and as a printable large-print PDF document for those who wish to print their own or additional copies. FFI: RSVP hotline, 612-843-3439; activity line and audio calendar, 612-253-5155, www.visionlossresources.org
St. Cloud Area Parkinson's Disease group
St. Cloud Area Parkinson's Disease Support Group typically meets 1-2 p.m. on the third Monday of each month at ILICIL Independent Lifestyles, 215 N. Benton Dr., Sauk Rapids. Meetings are open to those diagnosed with Parkinson's, their families, caregivers and the general public. The free group provides support, education, and awareness about the disease. FFI: 320-529-9000  
Adult support groups offered
AuSM offers free support groups for adults with autism spectrum disorder. Groups include those for adult family members, women with autism spectrum disorders and independent adults with autism. Check the website for upcoming groups. Groups meet at the AuSM offices at 2380 Wycliff St. FFI: 651-647-1083 ext. 10, www.ausm.org
---
VOLUNTEER
Book readers sought
Volunteers are a valuable resource at Radio Talking Book, broadcasting local news and information programs to blind and print-impaired listeners from sites around the state and at the Communication Center in St. Paul. The goal is to provide accurate and timely information to our thousands of listeners throughout Minnesota and across the nation. FFI: Roberta Kitlinski, 651-539-1423
Be a tutor
Minnesota Reading Corps and Minnesota Math Corps are seeking 1,700 tutors for the 2019-20 school year by asking residents to Help Minnesota Be More. Give Your Time As A Tutor. Both full- and part-time tutors are being recruited to begin a year of paid service this fall. By joining Reading Corps or Math Corps, individuals will be helping more than 35,000 students statewide. Reading Corps and Math Corps are statewide initiatives to help every Minnesota student become a successful reader by the end of third grade, and proficient in math by the end of eighth grade. Tutors are being sought for three different levels of commitment: 35, 25 or 18 hours a week. Tutors receive a stipend every two weeks and can earn up to an additional $4,200 for student loans or tuition, which can be gifted to a family member if the tutor is 55 or older. Many tutors also qualify for additional benefits like free health insurance and child care assistance. Sign up soon as tutors start work in August. FFI: www.minnesotareadingcorps.org, www.minnesotamathcorps.org
Open the door to education
Help adults reach their educational goals and earn their GED. Tutor, teach or assist in a classroom with the Minnesota Literacy Council. Give 2-3 hours a week and help people expand their opportunities and change their lives through education. Provides training and support and accommodations for volunteers with disabilities. FFI: Allison, 651-251- 9110, [email protected], http://tinyurl.com/ adult-opportunities