Ric Nelson is new ARRM board president
ARRM, a nonprofit association of more than 200 provider organizations, businesses and advocates announced that Ric Nelson, President and CEO of New Ulm-based EON, Inc., has been elected to a two-year term as president of the board of directors for the association.
Nelson brings more than 25 years of industry experience, including being EON, Inc.'s President/CEO since 2014. In that time, he has worked with local and state legislators to bring awareness to the disability services in Minnesota in how they are funded and regulated. Nelson is also the immediate past president of the Rotary Club of New Ulm.
In addition to his industry experience, Nelson as served on the ARRM Board of Directors since 2015, most recently serving as the association's vice resident. He takes over as president from Shannon Bock, executive director of Creative Care for Reaching Independence (CCRI) in Moorhead.
"The heart and resilience shown by the disability services industry and the employees who support individuals with disabilities inspires me daily and I am beyond grateful for the opportunity to lead ARRM and support their efforts to advance our common cause in a post-COVID-19 world," said Nelson.
ARRM is the Association of Residential Resources of Minnesota. ARRM is a nonprofit association of more than 200 provider organizations, businesses and advocates dedicated to leading the advancement of home and community-based services supporting people living with disabilities in their pursuit of meaningful lives.
Founded in 1970, ARRM continues to lead advocacy and training for positive industry reforms that support Minnesotans with disabilities. To learn more, visit arrm.org or follow the organization on Facebook and Twitter.
MRCI adds worksource program
Autism is the fastest growing developmental disability in the United States, according to the Autism Society of America. And with that climb comes the need for care for the individuals affected by the condition.
The public school system helps children with autism, but there is very little in the area of adult programs. In an effort to provide adults with autism a richer life, MRCI will add a new worksource program to its facility in Rosemount. The program will cater to the special needs of autistic individuals while providing individuals employment opportunity.
MRCI provides employment opportunities to people with developmental disabilities ranging from downs syndrome to autism. The company offers supported jobs in the community as well as center based work. The company moved to a new facility in Rosemount in March.
Katy Sunsdahl, who has worked with children with autism for more than four years in public schools, developed the work program for MRCI. And while a trial and error period will surely change some aspects of the program, Sunsdahl hopes it will meet the needs of adults with autism.
"I am really excited there's going to be a good option for adults with autism," said Sunsdahl.
Autism is a complex developmental disability that usually appears in the first three years of life and is the result of a neurological disorder. While the disease usually affects communication and social skills, each individual is affected by the disease differently.
No proven cause for the disease has been found but Sunsdahl said there are a number of theories. She said some people believe it is genetic, carried on the male gene; some think it is caused by vaccinations and others believe it's the result of pollution.
She said experts haven't determined why the number of cases has risen either.
Whatever the cause, the number of individuals with autism has risen sharply in the last 20 years. Sunsdahl said as adults those individuals will need the MRCI program and others like it.
The program will officially start Oct. 1 with three participants — or consumers, as they are known at MRCI. Program manager Julie Beckman said MRCI has looked at adding such a program for a long time.
With a new facility, encouragement from Dakota County and Sunsdahl's experience with autistic people, Beckman said they decided it was time.
The encompassing program will tailor to the specific needs of each person as well as address issues that people with autism face, Sunsdahl said. The focus will be on social interaction, communication, functional skills, work experience and community integration.
"One thing we're proud to do, is this program is tailored to each individual," Beckman said.
As with all MRCI consumers, they will be put to work. But instead of the large group setting that most of the programs have, the autism consumers will have a smaller, quieter, less chaotic setting said Beckman. Also similar to other programs some of the jobs will be on site and others will be off site.
While the jobs may be similar to other MRCI consumers, Sunsdahl said they will be more structured and reflect the needs of the individuals.
"People with autism strive in structure and they'll be able to be more successful," she said.
While the program will start small, Beckman said as more people learn of the program she anticipates it will grow significantly.
"Over the years a number of people will be served well," Beckman added.
Depending on the success of the program, other MRCI locations may adapt similar programs.
Adapted bowling and track and field state champions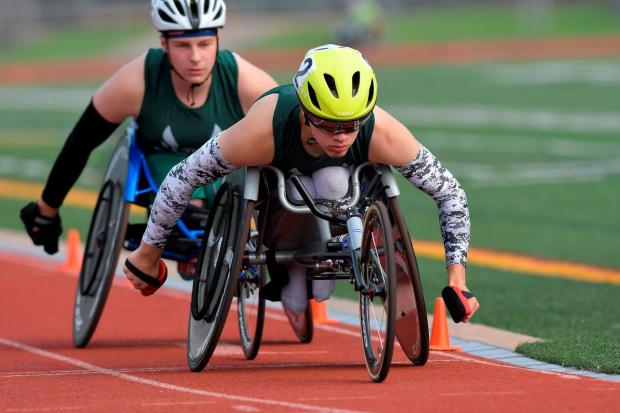 After a pause of more than a year, Minnesota prep athletes with disabilities are getting a chance to compete in state tournaments again. Adapted bowling and track and field events are held every spring.
The track and field meet was held at St. Michael-Albertville High School, a change from its longtime home at Hamline University in St. Paul.
The meet was the cap to wheelchair athlete Peyton Gunnarson's high school sports career. Class A multi-state record holder Peyton Gunnarson of Lewisville-Altura defended his 2019 title in the boys' 100 meter wheelchair dash. Aden Gravelle of Mankato Loyola finished second, with Tyler Gunnarson of Lewisville-Altura finishing third. Tyler Shepersky of United North Central finished fourth, with Toby Hagen of River Valley finishing fifth and sixth.
Peyton Gunnarson also won the 200 meter wheelchair dash, with Tyler Gunnarson and Aidan Gravelle, and Toby and James Hagen rounding out the top five. Gravelle was the defending champion from when he competed for Lake Crystal-Wellcome Memorial-Nicollet.
His third state title was in the 800 meter wheelchair run. Gunnarson rounded out the meet by winning the wheelchair discus throw, with James Hagen and Toby Hagen finishing second and third.
Shepersky won the 1600 meter wheelchair run, with Gravelle finishing second.
Gravelle won the wheelchair discus throw, with Toby Hagen placing second and Tyler Gunnarson taking third place.
In Class A girls' competition Emily Sullivan won the 100 meter wheelchair dash, 200 meter wheelchair dash and the shot put.
Blake Eaton of Duluth Denfeld defended both of his Class AA 100 and 200 meter wheelchair dash events. Macario Palomares of Buffam placed second in both events. Eaton is the state 200 meter Class AA record holder and 2019 state champion.
Palomares won the shot put.
New, returning champs in bowling
The Minnesota State High School League's 2021 Adapted Bowling State Tournament took place at local sites this spring, instead of at one site. Student-athletes competed in three divisions – autism spectrum disorder (ASD), intellectual disabilities (CI) and physical disabilities (PI). Results were tabulated and sent to high school league staff.
This was the first bowling tournament since 2019. The COVID-19 pandemic forced the cancelation of the 2020 tournament.
ASD results
Tartan of Oakdale earned its first-ever team championship with 1,716 pins. Junior Christopher Conoryea led the Titans with 471 pins. Seniors Christan Carruthers Jr and Ubong Sampson and ninth-grader Vincent Hickenbottom rounded out Tartan's squad.
Alexandria and St Michael-Albertville placed second and third in ASD team competition.
Anoka-Hennepin junior Josiah Bueltel won the boys' singles title with a score of 478 and JWP/Waseca junior Ashlynn Cameron went home with the girls' crown after posting a score of 437. The St. Michael-Albertville duo of juniors Brock Apold and Nicholas Hoefener won the doubles competition with 924 pins.
Complete ASD results are at https://www.mshsl.org/sports-and-activities/adapted-bowling-asd
CI results
The Alexandria Area Cardinals took home their fourth team title, but first since 2011. The team also won in 2004 and 2008. Ninth-grader Shon Platt Jr paced this year's squad with 429 pins. Senior Robert Goor and ninth-graders Zechariah Davidson and Logan Usher also competed for Alexandria Area.
Mankato East and Lake City took second and third place.
Senior Ellie Tanem and junior Ella Charette of Anoka-Hennepin combined for 892 pins to claim the doubles championship. Junior Bryce Tinnel of Cambridge-Isanti (464) won the boys' title and senior Lily Gilbertson of Detroit Lakes (483) earned the girls' championship.
Complete CI results are at https://www.mshsl.org/sports-and-activities/adapted-bowling-ci
PI results
North High of North St. Paul captured two honors at the 2021 tournament. Senior Kathleen Hubert and ninth-grader Lucas Eide (887) won top honors in the double event. The Polars captured their third team title with 1,724 pins. Hubert had a team-high 454 pins and Eide, junior Isaiah Bendorf and sophomore Noah Vang completed North's team. North won previous team championships in 2018 and 2019.
Moorhead and Goodhue County placed second and third.
Austin junior Lupita Carrion and Minnetonka/Wayzata ninth-grader Hugh Kelly won the singles titles. Carrion had 497 pins and Kelly won with 498.
Complete PI results are at https://www.mshsl.org/sports-and-activities/adapted-bowling-pi
LIFE Mower County presents awards
LIFE Mower County hosted its 69th Annual Meeting and Awards Ceremony recently. The disability service agency is based in Austin.
This year's winners are:
Community Partner of the Year – Hill, Larson, Walth, P.A.
Direct Service Professional of the Year – Kersten Tollefson
Distinguished Service Award – Kathleen Huffman
Professional of the Year – Mary Barinka
Volunteer of the Year – John Gray
Robert Qual Memorial Self-Advocate of the Year – Emily Johnson
Life Mower County was founded in 1952 as the Arc Mower County. Its name was changed to LIFE Mower County was in early 2019.
Watch the recording of the meeting and slide show at www.lifemowercounty.org/annualmeeting.
Minnesota Autism Center opens doors
The Minnesota Autism Center opened its doors in Woodbury this spring, providing a needed option for families in the Twin Cities east metro area. The center opened in a former Allina clinic.
The autism center has a Minnetonka facility and also provides in-home therapy services as well as parent and sibling support programs. Its center-based approach is designed to provide one-on-one treatment in a controlled setting, said Kathryn Marshall, the center's executive director.
The Woodbury center is more than double the size of the Minnetonka facility and it is the largest facility providing one-on-one treatment outside of the home in Minnesota, Marshall said.
"This is a huge undertaking for autism," she said. The center is nonprofit and funded through private insurance or government medical assistance.
The center's expansion is in part a response to demand for more autism treatment options as the number of diagnosed cases rises. Autism is among a spectrum of disorders linked to an unknown neurological condition that can affect communication, behavior and social skills.
The center's therapy varies for each child, but can include teaching and reinforcing actions such as eating with utensils, sitting quietly or learning to use the bathroom. Each child has an individual treatment program and works with a team of specialists.
At capacity, the Woodbury location will serve more than 50 children, ages 2 to 21, whose treatment programs vary from 15 hours weekly to a full 40-hour schedule.